Meet Glenda Watson Hyatt – she is an author, blogger, podcaster and she runs her own accessibility business called Soaring Eagle Communications in Canada. By the way, she has cerebral palsy.
Glenda shares her life story in her book I'll Do It Myself to show others that cerebral palsy is not a death sentence, but rather a life sentence. Having previously visited Australia where she chatted with Jacqui Dalling at her blog Terrible Palsy, Glenda is back in the land down under. As part of her virtual book tour, she answers my questions about living with cerebral palsy and web accessibility.
Starting at the beginning…You mentioned being integrated into a regular classroom when going through school, plus going on to earn the highest award in Girl Guides, the Outstanding Junior Student Award and a gold medal in horseback riding! What was it like going through "mainstream" school with cerebral palsy?
To be honest, I preferred regular class to special ed class. For the most, I felt part of the group, albeit the fairly quiet part. I think I was challenged more and more was expected from me. I've probably accomplished much by being mainstreamed than I would have by staying in special education.
You recently coined a neat phrase – "Disability 2.0 – Nothing about us without us". Are you able to expand on what you mean by this?
So many decisions, policies and such are made that affect people with disabilities, yet we are not part of the process. Some of these decisions and policies are absolutely ridiculous, yet we need to abide by them to get the services we truly need. By Disability 2.0, I mean a greater emphasis on self-determination – on people with disabilities being actively and equally involved in the decision-making process, and being present when information regarding them is shared and discussed.
It's amazing reading about using your left thumb to type. Do you use a standard keyboard to type and navigate around websites? Are there any other technologies that you may use?
Yes, I plunk away at on a standard keyboard with only my left thumb; my four fingers glide along the top of the keyboard to steady my unsteady hand. However, it is becoming more difficult to find keyboards without an extra row of keys along the top.
In place of a mouse, I use a Traxsys (formerly Penny + Giles) joystick. Definitely not an inexpensive alternative at approximately $700 Canadian. OUCH! But I have much better control with the joystick than with the mouse. With the mouse, one involuntary or jerky hand movement and the mouse pointer goes flying across the screen. How frustrating!
I also use EZ Keys software for word prediction and abbreviation expansion. As I begin typing, the six most frequently used words starting with those letters appear in a small blue box on the screen. Different words appear as I continue typing. When the word I want appears, I simply hit the corresponding number and the computer completes the word. It does save me quite a few keystrokes! Although, even with this handy software, I still only type approximately ten or twelve words a minute, give or take.
Communication has always been a key message in your blog. With web 2.0 bringing new and fascinating ways of interacting with people around the globe, what are some of the key opportunities and challenges that you have faced with web 2.0 technologies?
These technologies have expanded the ways I can interact with people. The new opportunities to connect with people are truly amazing! I am eagerly waiting time to explore Second Life and to see what it is all about.
However, I am reluctant to fully embrace some of these technologies because they aren't accessible to people with some types of disabilities and, if my business is about web accessibility, I feel I need to walk the talk as much as possible.
It has been interesting reading about your accessibility work for the Canadian Government and encouraging to see the growing awareness of accessibility and the W3C WCAG 1.0 in both the government and private sectors. To some extent, there seems to be a perception that web accessibility is mainly for people with visual disabilities. Developing websites for people with motor related disabilities is not often covered to the same depth as say, visual disabilities. Have you got any tips for our readers on some things to consider when developing websites for people with motor disabilities?
I agree that there is a misperception that web accessibility is mainly for people with sight impairments, and the barrier facing people with other disabilities are discounted. For me with limited hand function, I find those pop-out menus difficult to navigate – they either disappear before I can click or I end up clicking the wrong link and going somewhere I didn't want to go. It would help if those menus were keyboard navigable so that I could tab through the links if necessary. Equally frustrating are tiny clickable areas; redundant text links are helpful. Also, timed tasks are some times difficult for me to complete before the session times out. A way to increase time would be appreciated.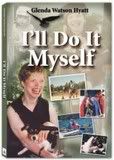 Many thanks to Glenda for taking the time to satisfy my curiosity and for the opportunity to be part of her Summer Sojourn virtual book tour. Don't forget to check out her Do It Myself blog where you can read and purchase her inspiring autobiography I'll Do It Myself You can also help out by voting for Glenda in the "blog for a year" competition.