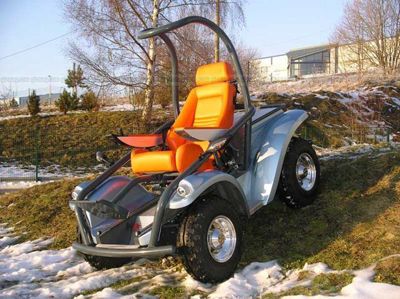 Photo credit: © Fraunhofer IITB
Mobile impaired but want the freedom of being able to get around any terrain? Check out the new GPS enabled four-wheel drive wheelchair, from Otto Bock HealthCare and the Fraunhofer Institute for Information and Data Processing IITB. This innovative system can check the user's pulse rate and blood values and even calls for help in emergencies.
This Superfourin, as it's known, is basically a modified ATV with a high-performance hybrid engine, roll bar, on-board computer, and embedded sensors to monitor both vital signs and vehicle status.
"Our test driver, a multiple sclerosis patient who has been wheelchair-bound for many years, was enthused. For the first time in a long time, he was able to visit the Thüringer Forest with his family without having to rely on outside help."
Source: Extreme wheelchairing