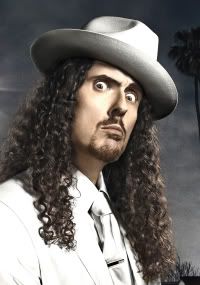 Tonight, hubby and I watched the hilarious Weird Al Yankovic performance at the Canberra Theatre. Weird Al is a very talented American musician/satirist/parodist who is best known for his parodies of some of the biggest names in the music business – Michael Jackson, Eminem, Nirvana, Madonna, James Blunt, etc.
Some of the songs performed tonight to a very enthusiastic audience included White and Nerdy, I'll Sue You, You're Pitiful, Canadian Idiot, Amish Paradise, Pretty Fly For A Rabbi, Fat, and my two absolute favourites, Yoda and The Saga Begins. I also loved the Weird Al TV interviews that played through out the night, inbetween songs.
Despite a slight technical hitch towards the end of the show (involving some device freezing and the projector stopping at a particular frame), the entire show was really fun, really funny and worth the money.