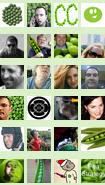 You might have notice another phenomenon going around Twitter at the moment – a sea of peas in the avatars of many Twitter users. This is in support of Susan Reynolds, artist, author and social media consultant who, ever since she discovered that she had cancer in early December this year, has been twittering her breast cancer journey.
I love Twitter and how I can drop in and out of conversations, getting ongoing insights into people's lives. I love social networks and social media. I love how much more human and real the stories are. I love the interconnectedness I have with friends and family who frequent the same social networks that I do. I love how I can reach out, metaphorically, and there's someone listening or someone to talk to and to exchange ideas with. I love the whole concept of 'little' ideas and news taking off in a big way, stuff that the mainstream media doesn't always get to.
As Chris Brogan recently said in his For Those Who Pea on Social Media article, social media isn't just about chatter.
Social media is a lot more than blogging, podcasting, and social networks. It's effective at reaching the people beyond the keyboards and microphones and connecting them to important things.
So back to Susan Reynolds. I wish her all the best with her recovery (she's out of surgery this weekend). You can follow her blog, Boobs On Ice. Also, check out the Frozen Pea Fund website where you can make a donation to Breast Cancer research.